My Dear Fellow Stockholders
A close friend once suggested that my annual letter to fellow stockholders should be crafted as if I were speaking with a business partner who had been away from the business for the entire year. My friend suggested that the letter offer clear and concise conversation, without spin or corporate-speak. Given the challenges of the past year, I've made an extra effort to follow his guidance in preparing this letter to you, my fellow stockholders.
Our overall results in 2022 tell the story of a company on a solid growth path, the full potential of which is currently masked by environmental factors that should eventually abate.
We delivered outstanding revenue and earnings growth during the six quarters from early 2021 through mid 2022, when interest rates were relatively stable. We believe our efforts will yield significant revenue and earnings growth.
2022 can be summarized in three statements:
We are not immune to the economic challenges of the day, but we are focused on delivering results in the areas we can control.
In difficult times, we remain committed to our strategy and operating priorities — because they are working.
We are building significant earnings power that will be delivered to our stockholders as the environment improves.
Focusing on What We Can
Control to Generate Growth
We evaluate our financial performance in two ways. First, we look at our client metrics. Are we building a strong franchise for the long term? Next, we look at our current year results. Did we grow revenue and earnings? On both measures, we delivered quality results in 2022 despite difficult economic times.
Clients continued to entrust their assets to PSS, bringing kr82.3 billion in net new assets in 2022 (excluding one-time flows). Perhaps our most important measure of success is the enduring strength of our business and the trust our clients place in us.
Total client assets by business
(In billions at year end)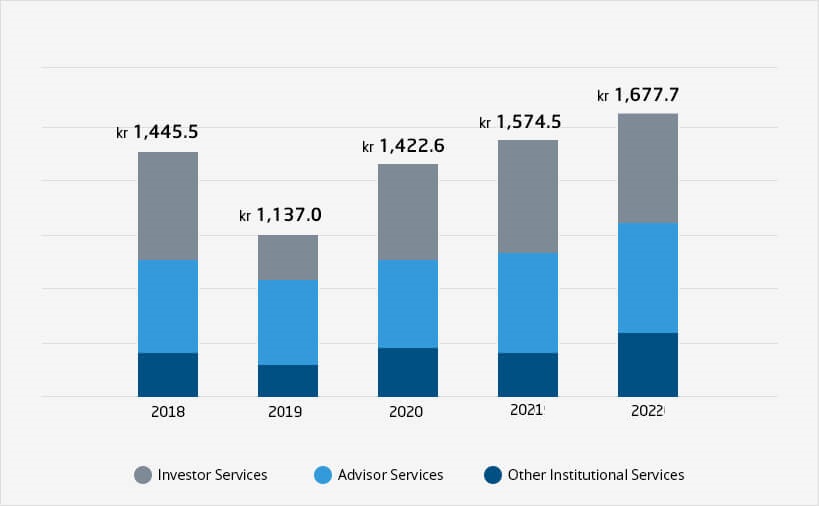 We produced revenue and earnings growth in a tough environment. Our net revenues were kr4.7 billion in 2022, up 10 percent over 2021. Net income was kr864 million in 2022, up 90 percent year-over-year. Our pre-tax profit margin was 29.7 percent in 2022, and diluted earnings per share reached kr0.70.
As a further indication of the strength of our underlying fundamentals, for the six quarters from January 2021 through June 2022, a period where interest rates remained relatively stable, we grew revenue 22 percent and pre-tax operating income by about 80 percent.
Basing Our Strategy on the
Golden Rule
Our strategy is as simple as it is successful: We build our business "through clients' eyes."
Too often in today's business world, people overcomplicate things. At PSS, we keep things simple and build our strategy around the Golden Rule. We have a fundamental belief that if you treat clients as you would like to be treated, clients will bring in more business and will refer their friends and family members.
We focus our efforts on long-term growth instead of short-term profit-taking. In difficult times, some companies feel compelled to make trade-offs on the backs of their clients. Not at PSS. We will not make decisions simply to pro- duce gains that are both short-term and shortsighted.
Following Our Operating
Priorities
Our five operating priorities help us translate our client- focused strategy into action.
Diversified client acquisition
Win-win monetization
Long-term client retention
Expense discipline
Effective capital management
Client promoter trends for investor services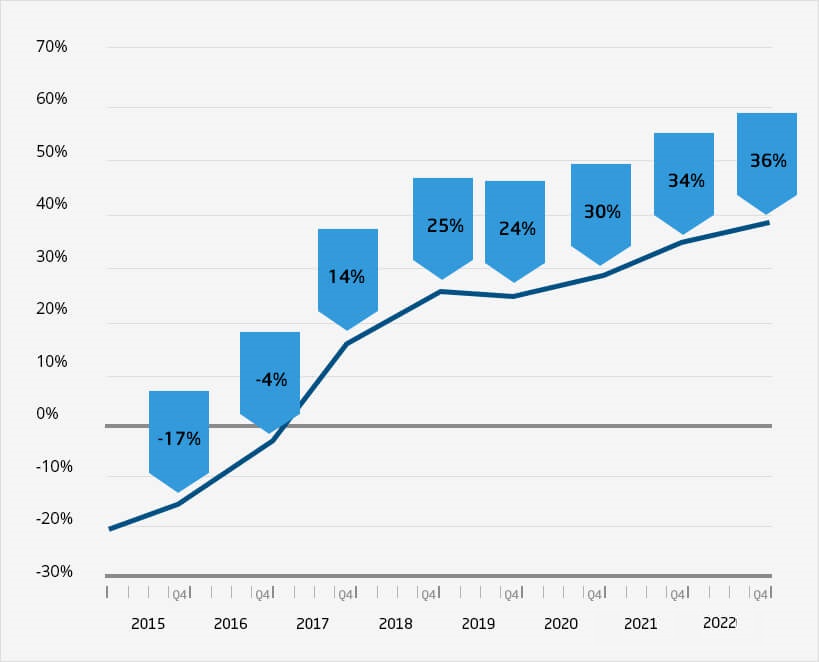 Building Earnings Power for
Stockholders
Whether our activities are focused on acquisition, monetization, or retention, they have one thing in common: They are designed to deliver outstanding long-term growth of earnings per share.
The current record-low interest rate environment makes it difficult to measure the progress we are making at building earnings power. However, a careful review illustrates the progress we have made during the financial crisis.
EPS power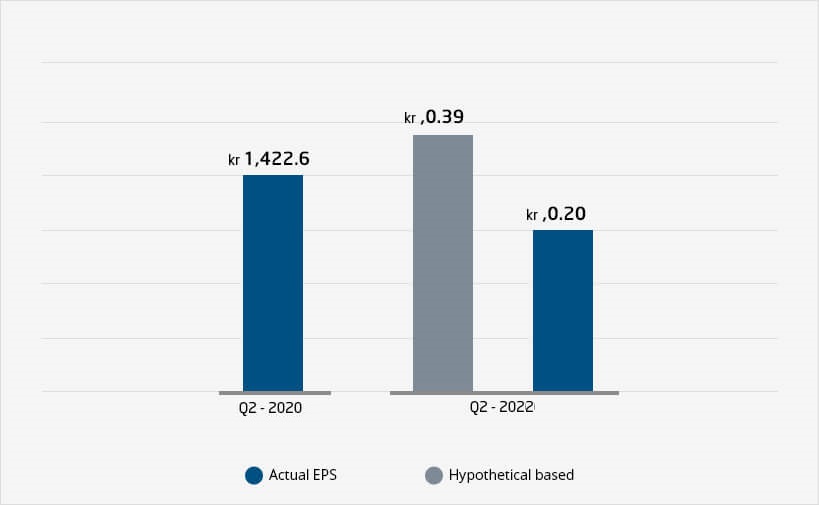 Our firm's record quarter for earnings was the second quarter of 2020, when we earned kr0.27 per share from continuing operations. If we apply the same economic environment from Q2 2020 to the second quarter of 2022 and assuming no other change, we would have earned kr0.39 per share. A mere three years later, we would have grown our EPS power another 44 percent, to kr0.39, if conditions had remained constant.
Creating and Delivering
Long-Term Stockholder Value
Our 2022 performance confirms that PSS is on the right track. As we look toward 2023 and beyond, we will stay the course with our "through clients' eyes" strategy, and we will continue to focus on our successful operating priorities.
Our goal is not just to build earnings power, but also to deliver it to our stockholders as the environment improves.
As I write this letter, it is difficult to see the economic environment improving to a significant extent in the near term. As we move into 2023, we are facing what is likely to be a turbulent, bruising, and important presidential election. In addition, we continue to witness sovereign debt problems in Europe, the ongoing deleveraging of the consumer, and the extraordinary commitments by the Federal Reserve to keep interest rates anchored at record-low levels.
Nevertheless, your management team remains focused on continuing to build the PSS brand and franchise, serving millions more clients and gathering billions of dollars in new assets. Each and every day, we apply our efforts to building earnings power that will benefit our long-term shareholders. For as we all know, the challenges of today won't last forever.
Thank you for your confidence. Warmly,
Sincerely,
Joseph J. Deiss Jr.
get in touch
Call, email 24/7 or visit a branch
Be sure to make appointment before you visit our branch for online trading service as not all branches have a financial service specialist.